#5. Gerald Stano – Body count: 41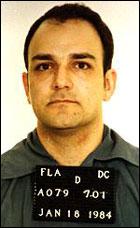 An American, starting around the late 1960s to early 1970s and the continuing on for as many as 7-8 years, Stano picked up a number of hitch-hikers and young women, murdering them via shooting, stabbing or strangulation. Apprehended in 1980, he was sentenced to life in prison until his execution by the electric chair in Florida, 1998.
Scroll down and hit the blue "Next Page" button for the next slide!